Visit Korzo with your students!
Get Moving offers an elaborate educational program for secondary schools. Performances can be combined with extra activities such as a workshop, and after talk, or a presentation. Please come and talk with us about tailor-made solutions.  
The following are our school performances and the options for tailor-made educational projects. 
School performances 2022-2023
Dance,  music, circus and physical theatre, you can find it all in Korzo – theatre and production house in the heart of The Hague. Korzo offers an educational program for secondary education.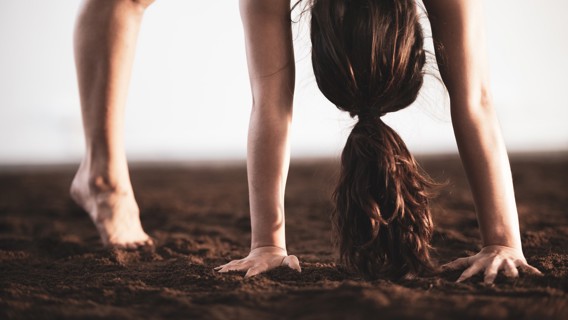 Chaïm (12+)
There There Company 
Breathing is a powerful yet fragile biological system, not nearly as self-evident as we think. Only when our breath is taken away from us do we realise its value.  

Thu 10 Nov - 20.30

Bambie 20 (14+)
Bambie
In Bambie 20, anger is given free rein, in absurdist, physical magnifications with recognisable traits. 

Fri 18 Nov - 19.30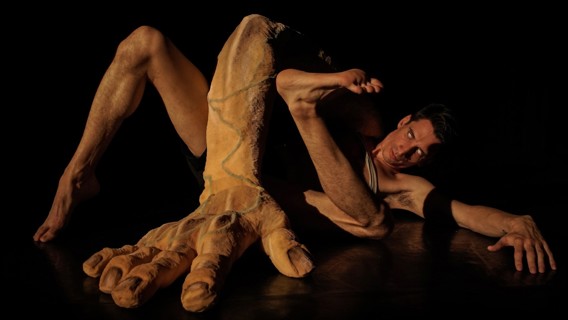 Avatāra (14+)
Duda Paiva en Shailesh Bahoran 
Hip-hop choreographer and puppeteer investigate the area of tension between people and gods. Do gods breathe life into people or is it man who creates gods? 
Fri 2 Dec - 14.00 | 19.30
1 more group can be booked here

Mother's White (12+)
Ryan Djojokarso, Aya. 
Dance, theatre and music come together in an honest story about the relationship between a white mother and a black child. A story about confusion of skin colours, privileges and the will to accept each other.  

Thu 2 Feb - 14.00 (FULL) | 19.30
Tue 31 Jan - 14:30
1 more group can be booked here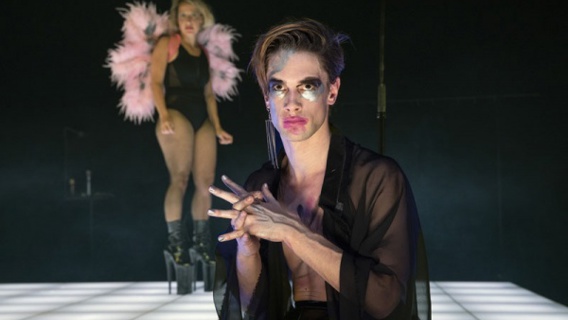 Club Toulouse (14+)
De Kopergietery
Inspired by the work and life of Toulouse-Lautrec, the famous French draughtsman/painter who captured Parisian nightlife on canvas, this show delves into the hinterland of fashion, nightlife and the emotional hunger of young people.  

Fri 17 Feb - 14.00 | 19.30
2 more groups can be booked here

Education projects tailor-made 
In consultation with schools we can offer tailor-made programs for students 12 years of age and older. 
We offer the following options: 
DOING, CREATING, AND EXPERIMENTING 
We develop dance workshops in partnership with companies and Korzo makers. In these classes, the students are challenged while they learn movement material. The various subjects treated in the class can be transformed into movement in their own way. 
ANALYSIS AND ENCOUNTER 
Regardless of how well you are prepared, there are always questions after a visit to the theatre. And what's better than meeting the artists afterward in the flesh? Korzo hosts meet & greets so that you can talk with the artists about their experiences. 
DISCOVER 
A theatre has many hidden places where the public never goes, and they are filled with secret stories you never hear. Dancers warm up in the studios. The engineers prepare the sound installation and the lighting in the auditorium. Costumes are prepared. Korzo organises guided tours past all these places and tells about how a performance is made. With a little luck you may even see a dancer at work in one of the studios. 
SUSTAINABLE DEVELOPMENT 
In addition to educational activities around performances, Korzo can also offer a more elaborate dance package that is tailored to the specific needs of your school. The main aim is for young people to make acquaintance with various dance forms. In consultation with our school, we can put together a package in consideration of the following: 
classes within or outside school hours;

 

classes at school or in one of Korzo's studios;

 

the possibility of concluding the project with a final presentation in Korzo;

 

the possibility of achieving study credits;

 

the possibility of contributing to one large presentation moment in the theatre;

 

combining the classes with attending a professional performance in Korzo.

 
Projects 2022-2023 and Expedition C

 
Schools in The Hague can also book performances at Korzo through Expeditie C - CultuurSchakel. The Expeditie C program will be posted on the CultuurSchakel website from 11 May and can be booked the whole year round. 
Contact
For questions, advice and bookings, please contact:
Annelieke Plugge 
getmoving@korzo.nl | 070 363 7540 
Example of tailor-made education projects 
Below you can read about two successful cases in 2022 of our education projects: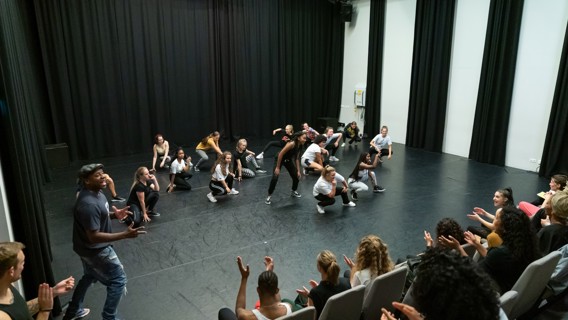 Kunstroute – Johan de Witt Scholengroep
Success story tailor-made education 
Together with other art institutions in The Hague (HNT, Residentie Orkest, Kunstmuseum, Filmhuis), we developed long learning lines for the Johan de Witt Scholengroep. The main focus was on the development of creativity, critical thinking, and cooperation; these skills are then combined with subjects such as identity, globalisation, and sustainability.  
All first and second year students follow dance classes at the art campus of the Johan de Witt Scholengroep and visit Korzo. The third and fourth years students attend classes at the locations of the art institutions. In our studios they work on their own artistic product that they then present in the theatre auditorium.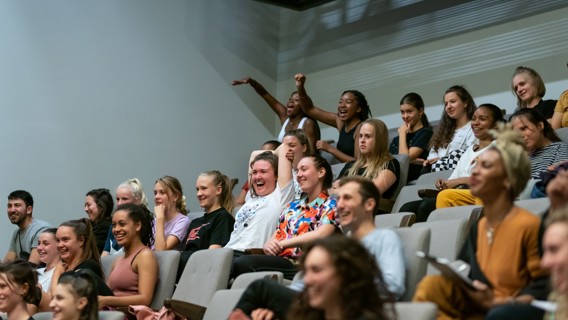 Gymnasium Haganum
Success story tailor-made education 
The fourth year students of the Gymnasium Haganum follow dance workshops in various styles in the course of a few days. They then choose one of the Korzo makers and instructors to develop their own piece in our studios in one day. At the end of the day, they present this piece to their friends/guardians/friends in one of Korzo's auditoria.