Playground is back!
With Playground, Korzo gives emerging artists in the performing arts and music sector in The Hague the chance to show their work to a curious audience on a professional stage, including technical support. Korzo accepts applications from performers in dance, circus, music, spoken word and physical theatre who are able to present a piece on a 10m x 10m stage with a maximum of 15 minutes.
The chosen artists are: Tu Hoang &Hiro Murata, Roberta Maimone & Roberta Riontino, Arie Verheul van de Ven, and Bjarte Wildeman. 
Host Hasan Gök will present the evening.
Photos: Lilli Weinstein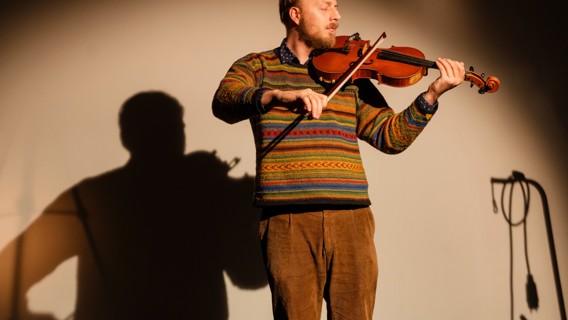 Cream Top Ln.
Cream Top Ln. is a partially improvised piece of music for Viola and Electronics. The piece is named after a small lane in the North of Toronto, where I grew up, that sits adjescent to a rental company for scissor lifts. The company always leaves the scissor lifts in an upright position next to the lane, giving the sense of a strange, mechanical, urban forest. In my performance, I reflect this chaotic mess of machinery by building a chaotic looping texture of plucked sounds as the base for my improvisation.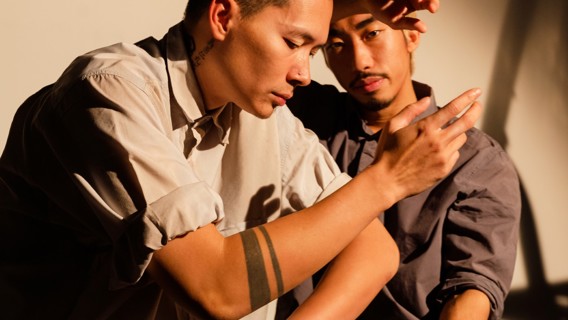 False Memories
False Memories"…is created around the concept of the psychological mind through the perspective of 2 individuals that have an unspeakable connection with each other. In an abstract way, the feeling stays that they are one entity in their spiritual world, whether they are together or separated in physicality. Our memory is a very fragile concept. Sometimes we remember things the way we want it to be. Our imagination helps us to escape our own reality in order to find comfort or peace. 
ENFANTS
ENFANTS was born organically, from the pure desire for union and fun. The idea is to bring a smile to audience members and performers alike, creating a moment of reflection on their approach to daily life, pitting the adulthood against the childish pursuit of freedom and joy. The performance reminisces on the yearning to return to childhood, exploring the unhealed and undiscovered parts of ourselves, the inner child ubiquitous in all of us and realising how to move on in life with serenity, enthusiasm and excitement. Smile, have fun and don't take it too seriously!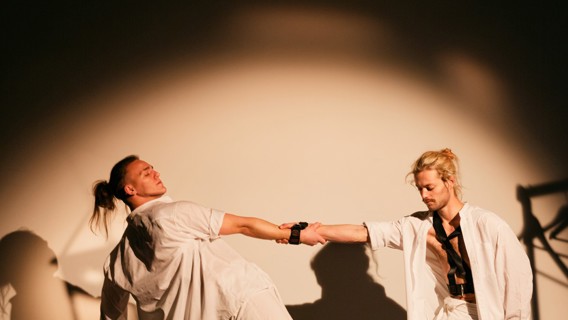 tens:ding [bending over backwards]
'tens:ding [bending over backwards]' is a play between two performers that magnifies the dynamics, beauties, and struggles of a relationship. "How far will you go to accommodate another?"

(© Lilli Weinstein)
Our collaboration was born from a pure and simple friendship. It started as a joke, only to become a real functional and dynamic working collaboration. What makes us unique is the respect for each other's ideas and thoughts. For us, art is being faithful and respectful to ourselves, and not bowing to the will of other people. When we create and decide to stage something, it is essentially what we like and not what others may like. This first production represents us at 360 degrees, as it is light, dynamic and original. We have worked in such a way as to keep the attention of the public alive, especially by identifying with them, so we aim to take everything to a higher level. Stage presence, movement and facial expressions are important to us. Putting these three elements together we are able to explore without limits and barriers, discovering new feelings and connections between us. We invite any reaction that leads to an exchange of thoughts and ideas, between us and the public. We hope our audience will be surprised, amused and feel totally involved in our storytelling.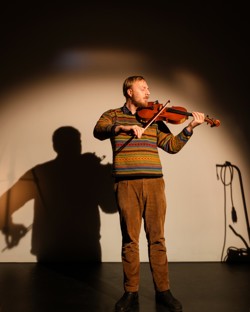 (© Lilli Weinstein)
Arie Verheul van de Ven is a composer and violist currently based in Toronto/The Hague In his recent work, Arie has been exploring geographic relationships & the experience of location in sound. The pandemic has led to an exploration of possibilities of creating music that is unique to an online space. He is currently a composer-in-residence with the Gather Round Singers who have been meeting on Zoom since March 2020. Together they have developed two new works for zoom choir As a violist, Arie is informed by his time spent studying klezmer and Canadian fiddle styles. Arie regularly performs with Ontario-based free improv ensemble HARP+ along with electric harpist Grace Scheele & synthesist Dave Klassen, whose recent project HOMECOMINGS was performed remotely over an interactive website developed by creative coder Jamie Christopher Webber. Arie is currently pursuing a masters degree in composition at the Royal Conservatoire in the Hague. 

(© Lilli Weinstein)
Bjarte Wildeman (1998, NL) creates performances and unconventional choreographies with the mechanisms which are found in, and define the Body; and through which the Body relates to the surroundings. He builds and uses choreographic and kinetic apparatuses to highlight and enable these movements. He is intrigued by bodily motion, the physical experience, altering these experiences and biohacking, and researches (mostly) through performance-installations. He recently graduated from the ArtScience Interfaculty at the Royal Academy of Art and Conservatory The Hague. Through his work he aims at inter- and intra-individual sensation, physical awareness and understanding, and developing ways of understanding and altering kinetic experience. He is currently working with expansion through restriction, the cognitive effect of movement systems; Mutualistic and interdependent movements, and the kinetic relationship between the Body, the Apparatus/Environment and Sensemaking.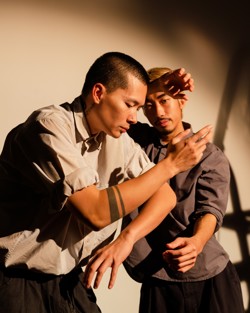 (© Lilli Weinstein)
TU HOANG (1988) is an independent choreographer from Hanoi, Vietnam. Tu danced at the Vietnam National Opera and ballet, Ballett Stadttheater Pforzheim, Conny Janssen Danst as well as choreograph for them. In 2018 his work, "Trial" was awarded 3rd Prize, the audience choice award and B.OOM festival production prize at the Copenhagen International Choreography Competition. It also won 1st Prize at New Dance For Asia in Seoul, the audience first choice award in Tanzplattform Bern 2019,  and the 1st place at the Hannover International Choreography Competition 34 edition.
HIRO MURATA (1997) is a dancer from Kanagawa, Japan. He is currently working at Conny Janssen Danst. He has background with wide range of genres. Such as Hiphop, Jazz, Popping, Contemporary, Ballet. As a maker, recently he made a piece "Flawsome" in the evening of "Kaapse Zomer" in Conny Janssen Danst. His work "UKA" won 2nd place in a Dutch choreography competition 3. His other work "Longing" won 4th place at the Japan Grand Prix, Contemporary division.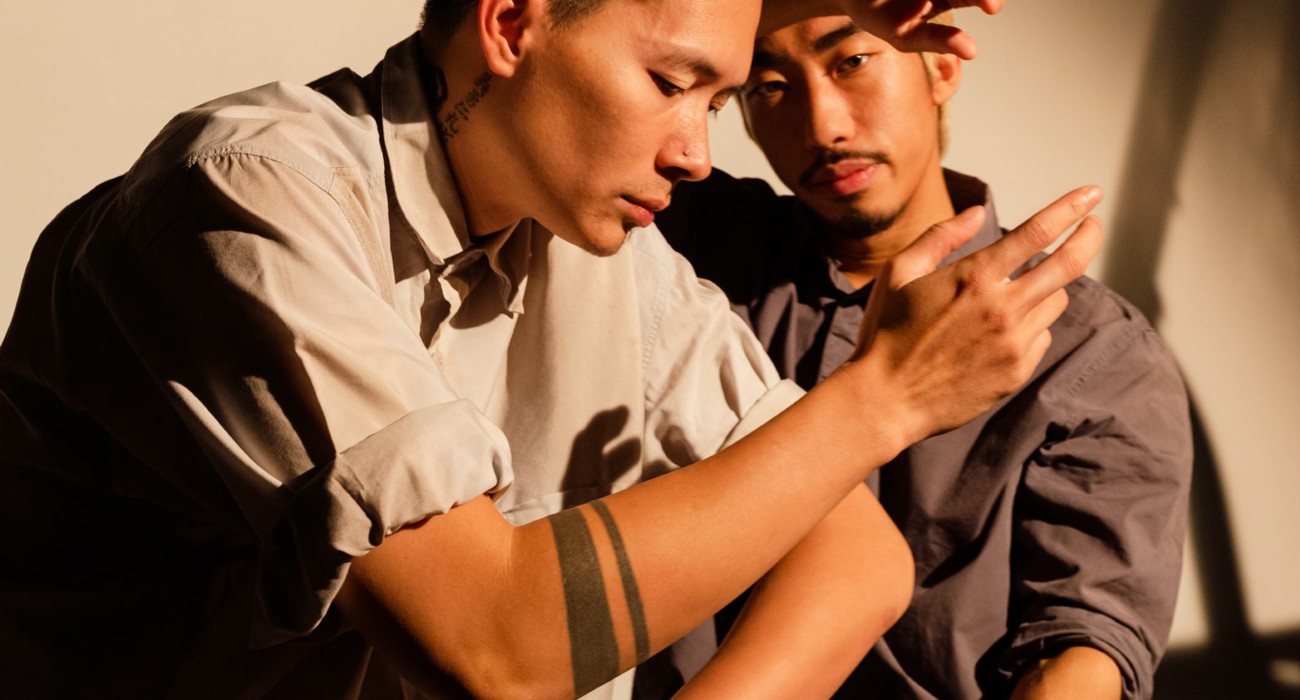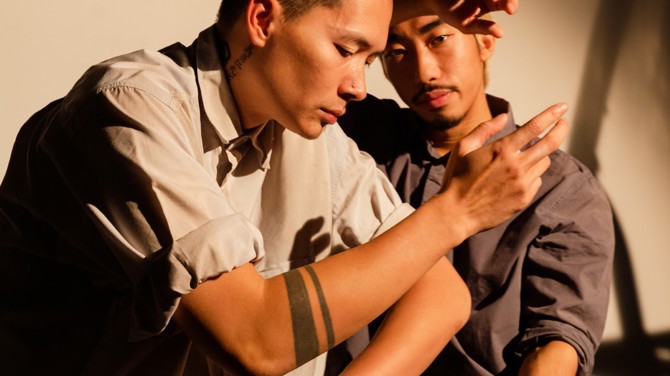 Playground