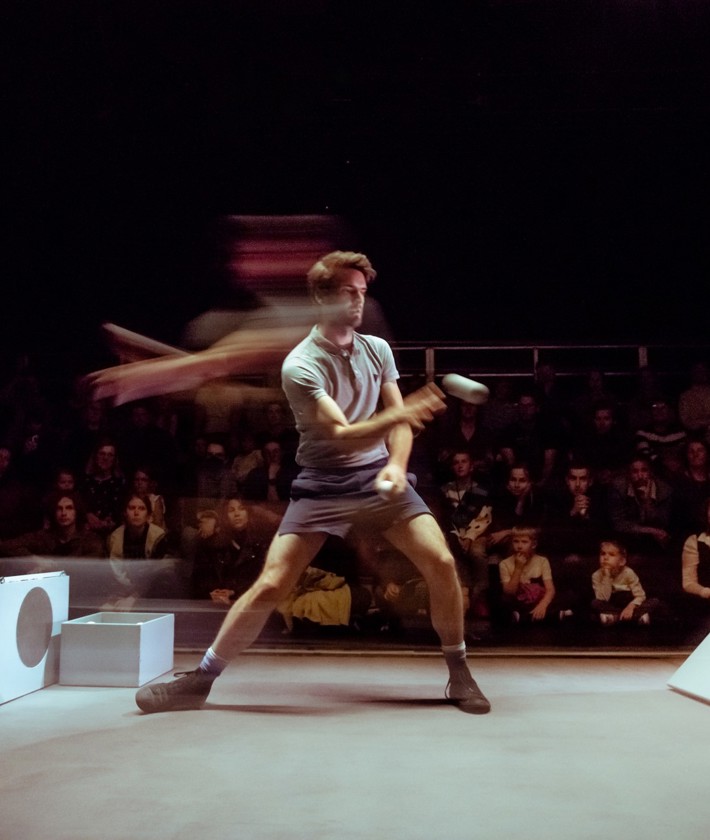 A musical juggling performance that explores the symbiosis between humans and robots. 
Stijn Grupping juggles collision balls that bounce from one triangle to another. Musician Frederik Meulyzer picks up on the rhythm with his drums. Together, they compose music and an intriguing interplay of lines of flying collision balls. Everything depends on the juggler's precision and the drummer's responsiveness. Until the wooden triangles assume new positions....
Who is directing whom? Who needs whom? Or is it an even dance? Each triangle comes to life, but the more wanton the triangles become, the more challenging for the juggler to keep the balls in the air. Everyone is needed to bring the whole thing to fruition, but just as easily anyone can make it fail. 
"What begins as easily digestible muscle ball rolling for young and old, unfolds into an entertaining yet moving multimedia timelapse of the struggle between man and technology." 
Jacoba Waumans - UUR KULTUUR 
Korzo x de Pizzabakkers
Enjoy a pizza at de Pizzabakkers before the show. For €8.50 you can choose from different kinds of pizzas. When ordering your tickets, also choose a pizza ticket to make use of this combo offer. Book your pizza-ticket via the link.
Note: make a reservation at the restaurant itself to avoid it being fully booked on the night of the show!

Pizza-ticket
As in the festival hit PAKMAN, musician Frederik Meulyzer provides the perfect musical sounding board for juggler Stijn Grupping, Ine Van Baelen directs again. This top team is further assisted by choreographer Ugo Dehaes and Professor of Robotics Edwin Dertien. Together they create an exciting, futuristic and musical performance that galvanizes our dealings with and ignorance about robots and artificial intelligence.  
Czech writer Karel Čapek first introduced the term "robot" in 1920 in his play R.U.R. (Rossum's Universal Robots).
Post from Hessdalen is a company for idiosyncratic musical theater. Cinematographer/circus artist Stijn Grupping and theater maker Ine Van Baelen form the artistic core, but with each new creation they also involve other artists. 

In this changing collective, Post from Hessdalen creates hybrid stage creations in which different artistic disciplines - theater, video, visual art, circus - come together in an innovative scene language. In each creation, the company confronts (live) music and/or soundscapes and wants to make visible connections between our senses, our ability to understand and our actions. 
| | |
| --- | --- |
| Creation | Frederik Meulyzer, Ine Van Baelen & Stijn Grupping |
| Performance & live music | Frederik Meulyzer & Stijn Grupping |
| Choreography | Ugo Dehaes |
| Robotics | Edwin Dertien, Gertjan Biasino, Nick van Lange, Teun van der Molen & Ugo Dehaes |
| Light | Lucas Van Haesbroeck |
| Director | Ine Van Baelen |
| Technicians | Arthur De Vuyst & Robert Wuss |
| Costume design | Sarah Demoen |
| With artistic contributions by | Aline Goffin, Jef Van gestel & Lander Van den Noortgate |
| Business management | Klein Verzet |
| Distribution | Vincent Company |
| Co-production | C-mine, MiramirO, Theater op de Markt & Tweetakt |
| Supported by | de Vlaamse overheid & stad Antwerpen |
| With special thanks to | hetpaleis & Zonzo Compagnie    |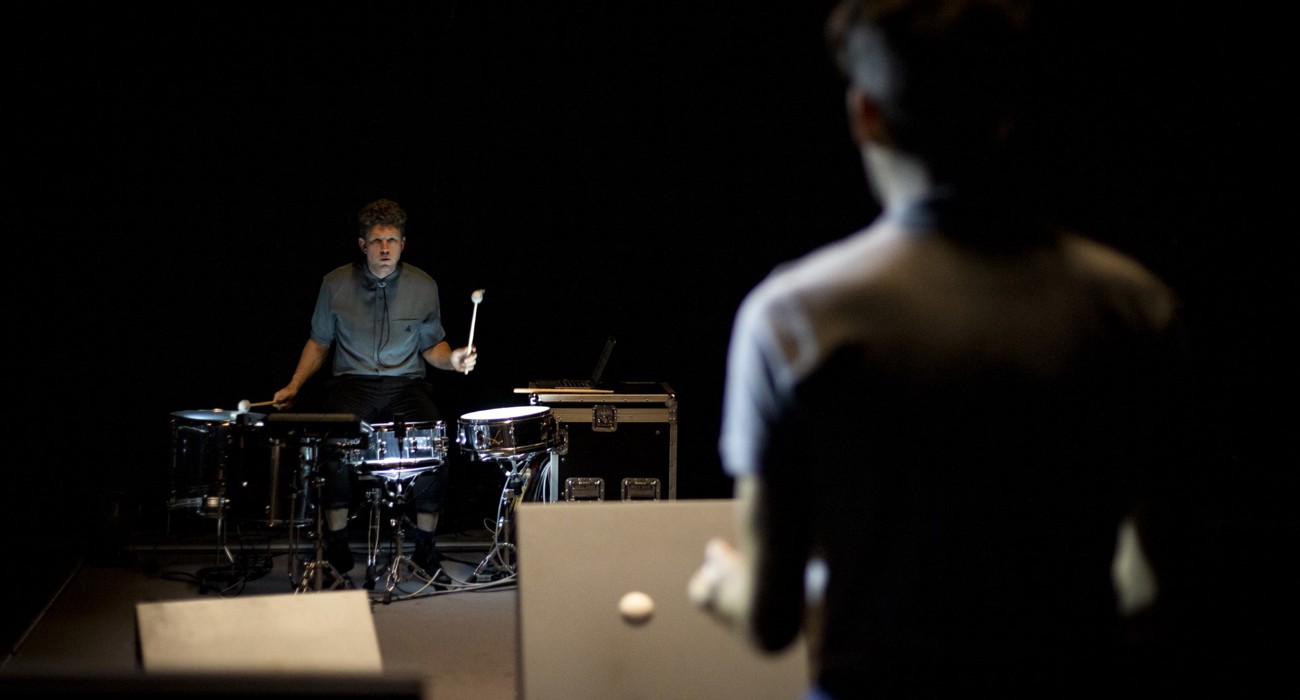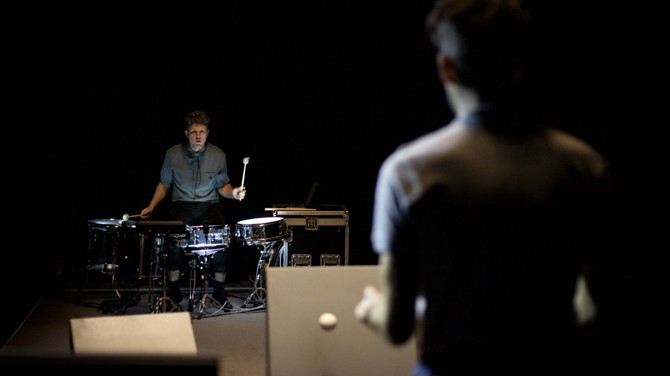 Cirque Mania #17: Man Strikes Back