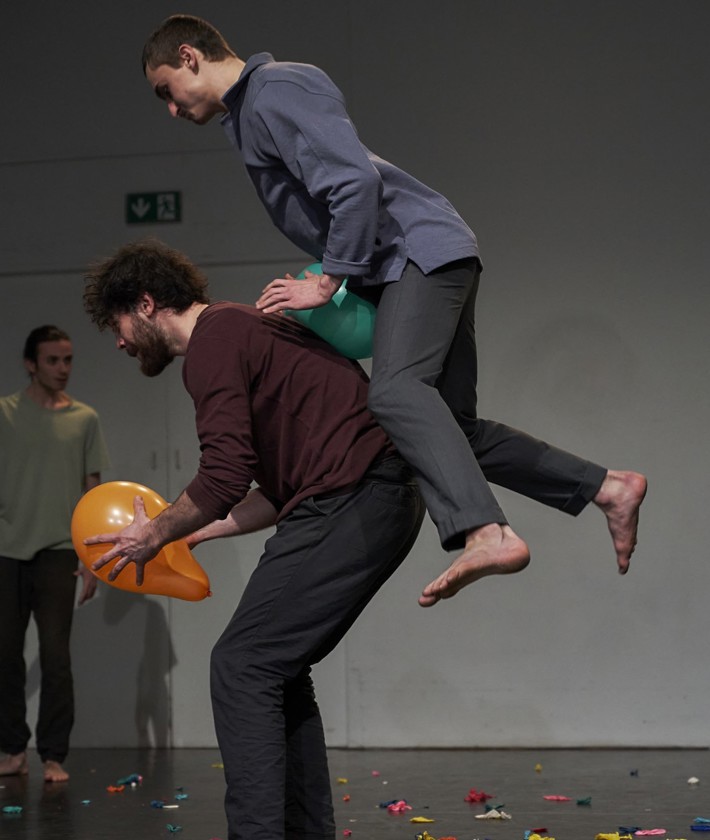 A varied evening with two strong mime performances by young talented creatives. 
Bodine Sutorius - Becoming  
(How) Can I escape my femininity? 
A performance that draws the audience in to the bizarre inner world of a woman who attempts to escape her form. To escape from her hips, breasts and bum. The performances proceeds from a fascination for the female body and the question: what does it mean to be a woman, where is the beauty and where is the horror of possessing a woman's body?
Hendrik Van Maele • TENT - Ways of being ready 
In a physically absurd encounter, two artists engage in the art of being ready. 
Ways of being ready is a meeting of two life-long friends. One is trained as an acrobat, the other as a mime. One of them is often late, the other too early. One tears of his finger nails, the other bites them. They both look for ways to be ready for the inevitable. 
These two friends no longer strive for completion in their mutual game. They practiced and still practice the art of being ready, even if it is a place where no one ever arrives. 
Performer and theatre maker Bodine Sutorius, born in The Hague, moved to Amsterdam in 2016 to study at the Mime Department. There she discovered her talent as a strong physical performer who does not shy away from being vulnerable. She performed with various theatre makers such as  Rene Geerlings, Boukje Schweigman, Simon McBurney, and interned with the Jakop Ahlbom Company in their performance Le Bal. For her graduation, she created two performances, one of which was the acclaimed performance Becoming for which she was awarded the Andre Veltkamp scholarship.
In 2017 Hendrik (1995) graduated from the Academy of Circus and Performance Arts (ACAPA) in Tilburg where he primarily focussed on partner acrobatics. Together with fellow students, he established the collective Familiar Faces. They won the BNG Circus Prize and were nominated as laureates of the European Circus label Circusnext. Hendrik performed in Muur (TENT • Floor van Leeuwen) and Screws by the Flemish director Alexander Vantournhout. Ways of being ready marks Hendriks debut as a director. From 2021 - 2023, Hendrik will be a creative with TENT house for contemporary circus in Amsterdam.
| | |
| --- | --- |
| Concept & play | Bodine Sutorius |
| Music | Thomas van den Berg |
| Technical Design | Jela Nieuwstraten & Mano Nijkerk |
| Special thanks to | Tabita Friis Kristensen, Leela-May Stokholm en de Mime Opleiding |
| - | - |
| Ways of being ready | Hendrik Van Maele |
| Concept & direction | Hendrik Van Maele |
| Outside Eye | Esther Snelder, Margot Jansens & Floor van Leeuwen |
| Artists | Elliot Dehaspe & Hendrik Van Maele |
| Producer | ENT house for contemporary circus |
| Technique | Cahit Metin |
| Coproducers | Miramiro, Cirklabo, PERPLX, Provinciaal Domein Dommelhof & Veem House for Performance |
| Residences | deruimte, Miramiro, PERPLX, Werkplaats Diepenheim & CC De Grote Post |
| Made possible by | Amsterdams Fonds voor de kunst & Fonds Podiumkunsten |
| Special thanks to | Evangelos Biskas & Balthazar Glotain |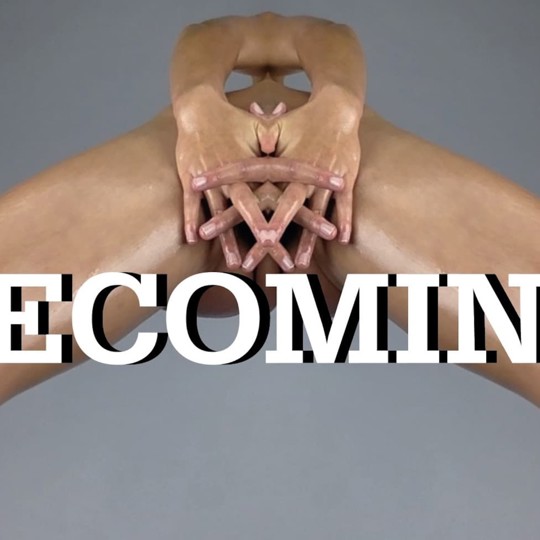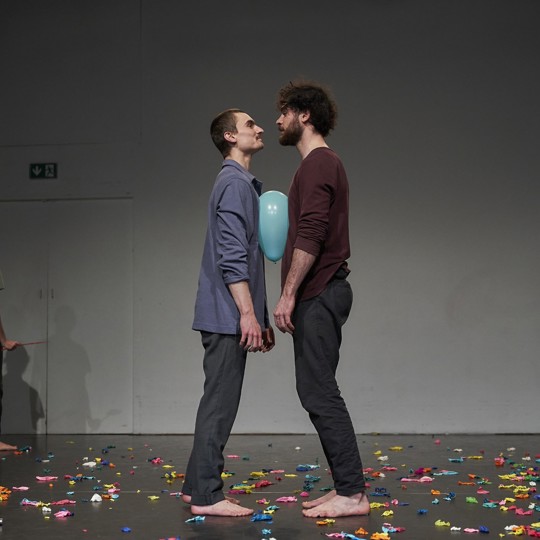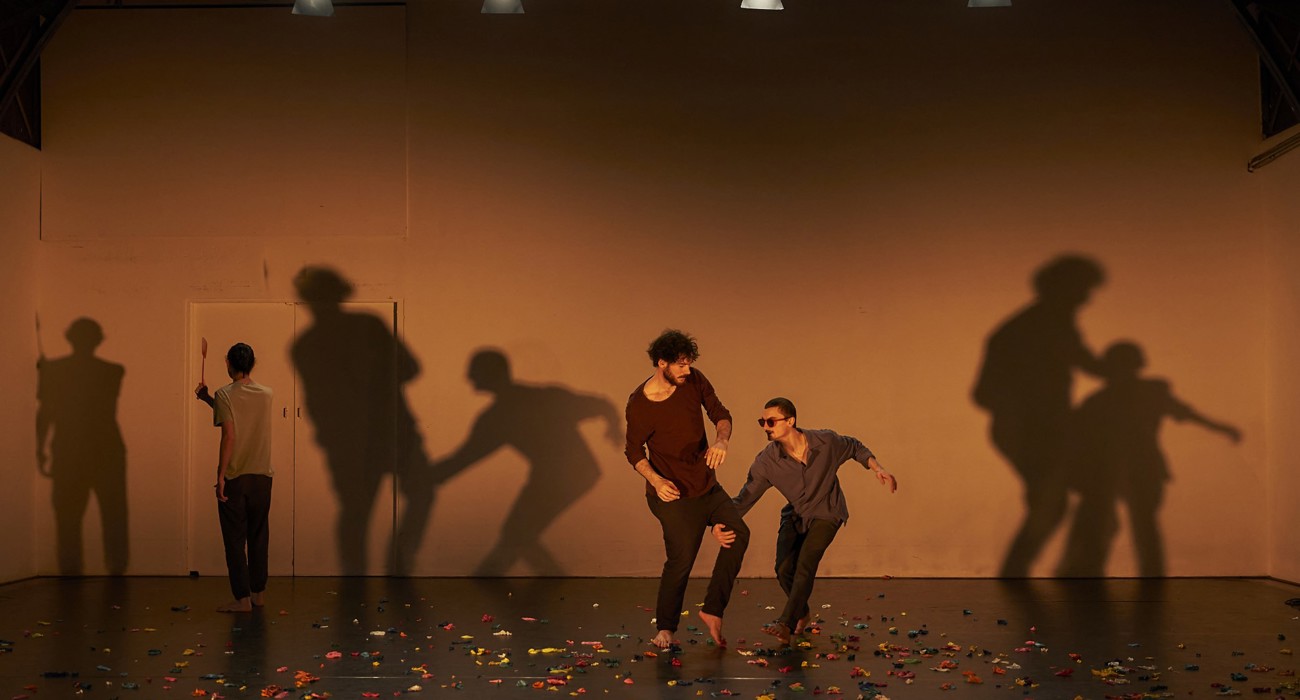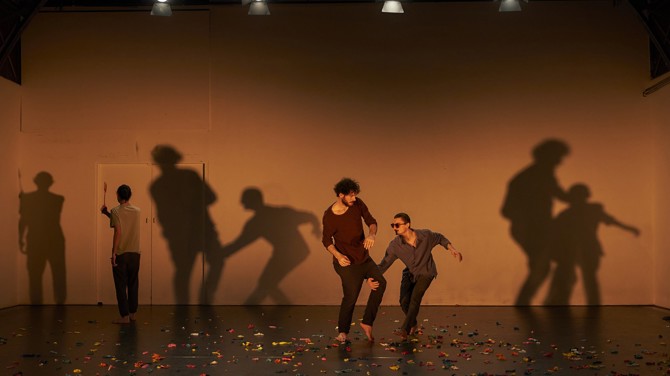 Double Bill: Becoming & Ways of being ready