Your visit
Return your ticket(s)
On Friday, 26 November 2021, it was announced that the theaters will be closed from 17:00 and that there will be a limited capacity keeping a distance of 1.5 meters for matinee performances. For Korzo, this means that all performances will be canceled or rescheduled until 18 December 2021. Ticket holders will be notified by e-mail, but can also view the status of the performance themselves via 'My Account' and return their ticket(s). Read below how to do that.
Please note that 'My Account' is currently only available in Dutch.
Step 1: Go to My Account
Login to 'My Account' via this link: https://selfservice.ticketmatic.com/flow/korzo
If you do not have an account yet, you need to register (Registreren) first. Then you can login (Aanmelden).

Step 2: Find your ticket(s) to cancel
Under 'Mijn tickets' (My tickets) you can find an overview of the performances for which you have tickets. You should see the status turned to 'Geannuleerd' (Cancelled). Click the blue button that reads 'Retourneren'.
Example: DansClick 23 on 3 December 2021.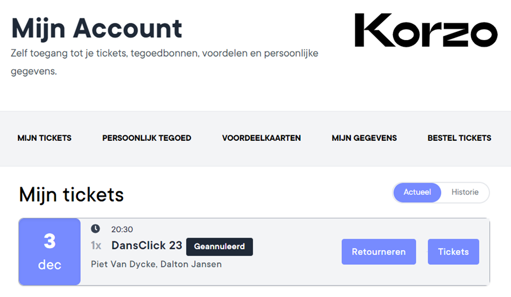 Step 3: Select your choice of refund
Korzo offers three options:
Voucher/personal credit (Ik ontvang het bedrag als persoonlijk tegoed) - the voucher will be valid for 1 year and can be used to buy tickets and/or products such as the 10 Classes Card.
Full refund (Ik ontvang het bedrag terug op mijn bankrekening) - a full refund of your money will be done to your bank account or credit card within 3 to 5 working days. If you paid cash or by pin at the Korzo box office, then please contact us.
Donate your ticket(s) (Ik doneer het bedrag) - Artists are paid for the cancelled performances. By donating your ticket(s) you support Korzo and the artists directly.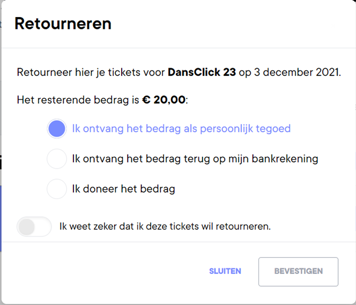 Step 4: Confirm your choice
Confirm your choice by selecting 'Ik weet zeker dat ik deze tickets wil retourneren' and click on 'Bevestig'. A pop up should confirm your choice. If you choose a personal credit, then you can find the voucher code under 'Persoonlijk tegoed'. An e-mail will be sent to you as well.
Please contact us if you have any questions from Monday - Saturday from 10:00 until 17:00 via +31 (0)70 363 7540 or via info@korzo.nl.