UIT Nacht 2019
20.00 - 00.00 Korzo Zaal + Studio
Event is already over!
FREE cultural snacks of the new season
Feeling culturally peckish? Come to Korzo during the UIT Nacht and get a cultural snack for free! Korzo is a definite must-see for anyone in The Hague. It's an adventurous, internationally oriented venue in the heart of the city where you can enjoy dance, music, theatre, and circus. In addition, Korzo is also a production house for dance where leading top talents from the dance scene work and teach. You can attend dance classes in Korzo and aside from attending performances and you can relax at the bar with friends and meet artists from all over the world.
50% discount for every 2nd ticket!
Program
20.00 – 20.50 (Korzo zaal)
circus: Boost producties | Pie in the Sky (Cirque Mania)
dance: Crosstown & Art Srisayam | HOOP
20.15 – 21.00 (Korzo studio)
dance: Zahira Suliman | Here we live and now
dance: Jasper van Luijk | SHOT
21.30 – 22.20 (Korzo zaal)
dance: Amos Ben-Tal, OFFprojects | 60
dance: Ryan Djojokarso | LIBI
theatre: Duda Paiva Company
21.40 – 22.10 (Korzo studio)
music: Ensemble Modelo62
22.30 – 23.00 (Korzo studio)
music: Mediterranean Sounds | Mare Nostrum Inclusive
from 22.40 (Korzo zaal)
dance: Antonin Rioche | Here we live and now
dance: Heavy Hitters
DJ Grass Harp will be playing throughout the whole night in the foyer.
Click here for the program schedule.
Uri Ivgi & Johan Greben, IVGI&GREBEN
Internationally renowned dance artists Ivgi&Greben bring an ode to idealism.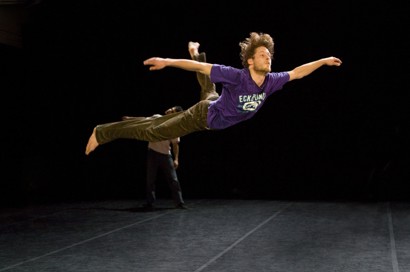 Festivals & series
Jong Korzo
Korzo in Den Haag
Arch8 / Erik Kaiel
How do you keep your head above water when the world becomes warmer? In this wild water ride of a performance, you see four players first deal with today's world. The problems are well known, but no one can solve them on their own. Come and watch, and think, and join in.
Ryan Djojokarso
20.00 - 21.00
Theater Kikker, Utrecht