Resident
Different times Different locations
Event is already over!
Dunja Jocic is one of the most exciting new choreographers in the Netherlands. In 2017 she won the BNG Bank Prize and in 2018 the Prize of the Dutch Dance Festival. Dunja creates cinematic performances with an electrically charged and capriciously virtuoso dance language. In Resident we see a man, who striving for a perfect living situation, finds himself in a modern apartment complex. Although all the typical housing problems seem to have disappeared, his fears still linger. After learning that his access to his own belongings is somewhat limited, the man starts to question the utopia. Stable and quiet surroundings suddenly become as sterile as an architectural rendering. Living becomes more and more threatening.
Please note! A stroboscope will be used during the performance.
What does going mad look like? Watching The Resident, the new choreography by Dunja Jocic, winner of the Prijs van de Nederlandse Dansdagen Maastricht 2018, you might get an idea. … The monologue, written by Barbi Marković, works like a short story all on its own… everything really comes together with the intense performance delivered by Simon Bus.
Movement Exposed
Credits
Dramaturgy & Set design
Marinus Groothof
Music composer
Renger Koning
Campaign image
Jelena Jankovic
Scene photos
Sanne Rosbag
Uri Ivgi & Johan Greben, IVGI&GREBEN
Internationally renowned dance artists Ivgi&Greben bring an ode to idealism.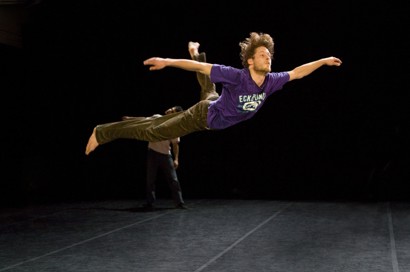 Festivals & series
Jong Korzo
Korzo in Den Haag
Arch8 / Erik Kaiel
How do you keep your head above water when the world becomes warmer? In this wild water ride of a performance, you see four players first deal with today's world. The problems are well known, but no one can solve them on their own. Come and watch, and think, and join in.
Ryan Djojokarso
20.00 - 21.00
Theater Kikker, Utrecht