| | |
| --- | --- |
| Choreography | Alex Kyriakoulis |
| Produced by | La Verità Dance Company |
| Duration | 60 min |
Natasa Frantzi and Alex Kyriakoulis made an impression during the Rotterdam International Duet Choreography Competition in 2019. With their Belgian company La Verità Dance Company, they have attracted much attention. Their latest creation Omne + Trium = Quatrum is inspired by the Latin principle of 'everything that comes in threes is perfect' and questions the definition of perfection. Proceeding from Leonardo da Vinci's Vitruvius Man, which is a model of the proportional perfection of the body, the dancers begin their explorations. They transform the body into its primitive self in which animal instincts reside, there where man finds his true freedom. How great is the distance between these two worlds? And which definition of perfection will prevail?
Credits
Choreography
Alex Kyriakoulis
Performers
Astrid Sweeney, Natasa Frantzi
Music Composition
Raoul Noplay
Set Design
Paraskevi Hionidou
Dramaturgy
Natasa Frantzi
Assistant Dramaturgy
Paraskevi Hionidou, Elias D'Hollander
Co-Production
Centre Chorégraphique National de Roubaix (FR), Centre Culturel Balavoine (FR), Choreographisches Centrum of Heidelberg (DE)
Uri Ivgi & Johan Greben, IVGI&GREBEN
Internationally renowned dance artists Ivgi&Greben bring an ode to idealism.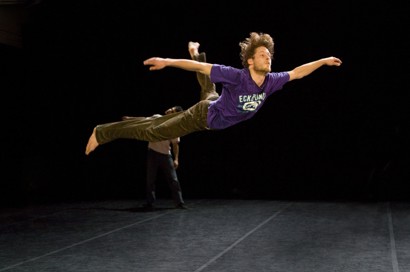 Festivals & series
Jong Korzo
Korzo in Den Haag
Arch8 / Erik Kaiel
How do you keep your head above water when the world becomes warmer? In this wild water ride of a performance, you see four players first deal with today's world. The problems are well known, but no one can solve them on their own. Come and watch, and think, and join in.
Ryan Djojokarso
20.00 - 21.00
Theater Kikker, Utrecht