In Bloom: Fourth Edition
20.30 - 22.00 Korzo Studio
Event in the past.
a selection of new music unearthed from the city's fringes blossoming in and around the Hague's underbelly
In Bloom is a new concert series hosted by Korzo and curated by The Hague based composer/performers James Alexandropoulos-McEwan and Lise Morrison. They curate and present a showcase of young musicians with works developed by their peers from the music and art scene of The Hague. The projects were born in the context of local squat-based and D.I.Y. concerts, and the Dutch music and art academies.
Alex & Zahar
The duo Alex Andropoulos and Zahar Bondar presents For Balance, a piece in which acrobatics and music come together in a theatrical manner. As a drummer, Alex is at home with music and Zahar has a background in Acrobatics. They are also both sculptors. In their performances, they not only make use of self-made objects, they also have a sharp eye for form and the human body. During their performance they explore the acoustic properties of the space and feel their way around the limits within which they can move.
Nerea Vera
Tierkreis, a music fashion film
The classically trained percussionist and fashionista Nerea Vera has numerous interdisciplinary projects to her name. She shows her acclaimed film Tierkreis, a music fashion film, which is an answer to the composition Tierkreis by Karlheinz Stockhausen. Each of the twelve zodiac signs portrayed in this work has it's own melody and lines of poetry; the musician decides the form and which instrument is to be played. Narea remains faithful to Stockhausen's instructions and selects from a series of unconventional percussion for each zodiac sign. Through her aesthetic, cinematographic lens, the work gets a personal and colourful interpretation.
Flowers / Ghost & Echoes
Gonçalo Oliveira and James Alexandropoulos-McEwan of Flowers / Ghost Echoes create a compelling sound world of impossible sounds from the electric circuit of their guitar. This results in complex layers of sonic structures with glitching melodies and subtly colliding chords. In reaction to this, visual artist Felix Bodin projects images live from his self-designed instrument Mirror. The abstract shifting patterns emanating from the mirroring apparatus are closely connected to the James and Gonçalo's sound world. It all varies from calm and reflective to intense and overwhelming.
Curator Lise Morrison created a SoundCloud playlist featuring the artists in this edition. Click here to listen!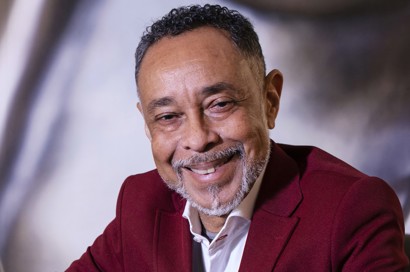 Silbersee
Silbersee nodigt in haar speciale kerstprogramma een nieuwe wintergast uit. In navolging van de auteurs Arthur Japin (2017) en Anna Enquist (2018) is dat dit keer de in Curaçao geboren psychiater en activist Glenn Helberg. Zijn visie op discriminatie en ongelijkheid is de rode draad in zijn teksten.