| | |
| --- | --- |
| Company | Lonneke van Leth Dans |
| Duration | 50 min |
| Part of | Lentekriebels |
Part 1: The Dark
The dark moves over the land, days grow shorter and it's cold outside; it's the best time of year for traditions and scary stories. The ten year old goes to stay with his grandfather. Daan likes scary stories. He just has one problem: he is afraid of the dark, but gramps wants the lights out at night. Still, he is curious about the old cupboard in the guestroom. Curious Daan sneaks into the room and finds all kinds of things that stimulate his imagination. That's how his stories start…
In this performance, Daan learns why he is afraid of the dark and how he can overcome his fears. Step into his exciting world of imagination and experience a theatre event in dance, music, and drama.
Come to De Donkere Dagen! If you dare.
Credits
Choreography
Lonneke van Leth
Dancers
Riccardo Sbrighi, Camille Pidou, Lara Kleinrensink
Musicians
Rieneke Brink (flute) en Arjan Jongsma (percussion)
Premiere
24 November 2019, HNT | Theater a/h Spui, The Hague
Uri Ivgi & Johan Greben, IVGI&GREBEN
Internationally renowned dance artists Ivgi&Greben bring an ode to idealism.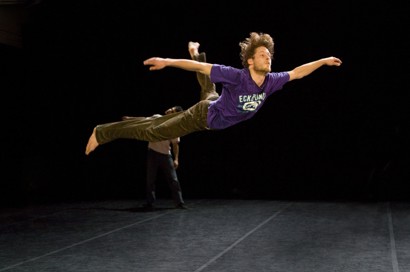 Festivals & series
Jong Korzo
Korzo in Den Haag
Arch8 / Erik Kaiel
How do you keep your head above water when the world becomes warmer? In this wild water ride of a performance, you see four players first deal with today's world. The problems are well known, but no one can solve them on their own. Come and watch, and think, and join in.
Ryan Djojokarso
20.00 - 21.00
Theater Kikker, Utrecht