Dag in de Branding: W.A.L.L.
Guitarist and composer Aart Strootman, winner of the 2017 Gaudeamus Award and the recent winner of the Matthijs Vermeulen Prize for Best Composition of 2017/2018, reflects on the wall as a phenomenon in his latest composition. The concept of a wall as a physical or digital border is more topical than ever. Historically we know of examples whereby walls have caused nothing but trouble. Through technical progress, the world has become more accessible and the need seems to have increased to build walls. In W.A.L.L. a microtonal guitar consort and a colossal microtonal marimba draw up impenetrable walls of sound.
W.A.L.L. is a coproduction by Gaudeamus, Slagwerk Den Haag, and November Music, made possible by Kunstloc Brabant.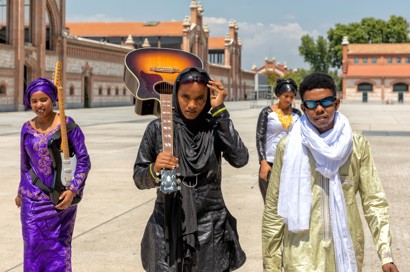 Frontvrouw Fatou Seidi Ghali is de enige Toeareg-gitariste uit Niger. Met hypnotiserende gitaarrifjes, bedwelmende meerstemmige zang en een voortbewegend ritme is de Toearegmuziek van Les Filles volledig van deze tijd.