Dag in de Branding: Madam Koo
Do you really know your own neighbours? This question is the point of departure for the English-language chamber opera by the Dutch-Turkish composer Meriç Artaç and the Norwegian-Dutch director and librettist Ingrid Askvik. According to the creatives, history repeats itself in different forms. The setting is the chique Beethovenstraat in Amsterdam – in WWII 18.000 Jews were deported from this street. The opera, rife with absurdity, is a search for trust in times of urban unrest and terror. The music represents the contrasting worlds of three characters: Madam Koo, Mr. Oak and the little girl next door, Miku.
Madam Koo is a Diamantfabriek production. With financial support of Stadsdeel Amsterdam-Zuid, Fonds Podiumkunsten, Amsterdams Fonds voor de Kunst, Prins Bernhard Cultuurfonds, Dioraphte, Norma Fonds.
Credits
Libretto
Meriç Artaç i.s.m. Ingrid Askvik
Set design and lights
Koen Steger
Costume design
Rosemarie Allaert
Design instruments
Matias Askvik
Artistic guidance
Sylvia Stoetzer
Photography campaign image
Hanne van der Woude
Design
Yvo Zijlstra, Antenna-men
Vocalist
mezzo soprano/Madam Koo: Ekaterina Levental | bariton/Mr. Oak: Mattijs van de Woerd | vocal/Miku: Maartje Goes | actrice (guest performance): Eva van der Post
AKOM Ensemble
flutes: Alexandre Tkaboca | clarinet/bass clarinet: Adrián Bartolomé | viola: Mara Tieles | cello: Ivan Nogueira | percussion: Renato Penêda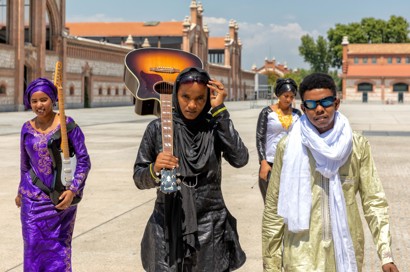 Frontvrouw Fatou Seidi Ghali is de enige Toeareg-gitariste uit Niger. Met hypnotiserende gitaarrifjes, bedwelmende meerstemmige zang en een voortbewegend ritme is de Toearegmuziek van Les Filles volledig van deze tijd.