| | |
| --- | --- |
| Hiraeth | Dalma Doman & Mara Hulspas / DALMARA collective |
| As Far as Thin Air | Emma Evelein & Lucien Denny |
| Part of | All there is |
Due to unforeseen circumstances, this edition of All there is is cancelled. If you bought tickets, we will contact you personally. Sorry for the inconvenience.

The December edition of All there is brings two duets together. The Hungarian dancer Dalma Doman has been associated with the Scapino Ballet for some years, where she met Dutch dancer Mara Hulspas. On the last day of the CaDance festival, they showed the fragile solo Feet to Face. This led to the duet Hiraeth; a journey of two women through the labyrinth of their generation, led by their intuition.
Emma Evelein received her dance training at the urban/contemporary department oh the Amsterdam Academy for the Arts (Amsterdams Hogeschool voor de Kunsten). She danced with companies such as the Kibbutz Contemporary Dance Company and Emanuel Gat. As a beginning choreographer she recently won the prestigious three-yearly Kurt Jooss prize in Germany and in 2018 the first prize at the AmsterDans competition. Together with urban dancer Lucien Denny, she created the duet As Far as Thin Air where their dance backgrounds intriguingly come together.
Uri Ivgi & Johan Greben, IVGI&GREBEN
Internationally renowned dance artists Ivgi&Greben bring an ode to idealism.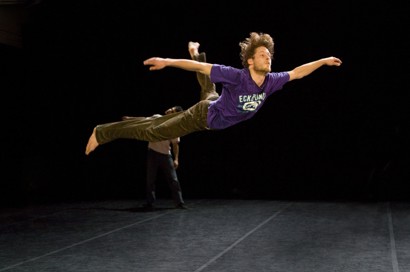 Festivals & series
Jong Korzo
Korzo in Den Haag
Arch8 / Erik Kaiel
How do you keep your head above water when the world becomes warmer? In this wild water ride of a performance, you see four players first deal with today's world. The problems are well known, but no one can solve them on their own. Come and watch, and think, and join in.
Ryan Djojokarso
20.00 - 21.00
Theater Kikker, Utrecht