| | |
| --- | --- |
| Ensemble | Ensemble Modelo62 |
| Composer | Petra Strahovnik |
| Duration | 90 min |
Three works for soloist and ensemble on the theme of mental health
A Fractured Mind?, a triptych by the Slovenian composer Petra Strahovnik, explores the way we treat mental health in society. A combination of music, video, performance, and electronics reveals the underlying thoughts and emotions of someone with a mental illness. Artist Jürgen Fritz, who designed the work together with Strahovnik, intensively trained the musicians of Modelo62 for their performance art. This ensemble from The Hague has earned their widespread fame with their high-level, versatile, and innovative approach to contemporary experimental music. With this intensely personal work, Strahovnik tries to break a taboo.
Prior to the concert you can visit KOnStruKt # 18, a collaboration between students from the Royal Conservatoire and Slagwerk Den Haag, for free.
Program 
1. In TIME - Obsessive-compulsive DisOrder
2. In TIME - Borderline Personality DisOrder
3. In TIME - Schizophrenia
DisOrders is made possible thanks to the financial support of Fonds Podiumkunsten, Stichting Dioraphte and Gemeente Den Haag.
Aftertalk
After the concert, you may join psychologist Christian Bouwkamp and composer Petra Strahovnik for an informal public talk, where they will address questions related to the project and Petra's motivation to work on mental conditions. Please feel free to join them.
'When it comes to playing, this group knows their business'
de Volkskrant
Credits
Director
​Ezequiel Menalled
Flutes
Gemma Tripiana Muñoz
Clarinet
Jorge López García
Trumpet
Justin Christensen
Guitar
Santiago Lascurain
Percussion
Klara van de Ketterij
Double bass
Vasilis Stefanopoulos
Jong Korzo
Korzo in Den Haag
Doe mee
Royal Conservatory and Korzo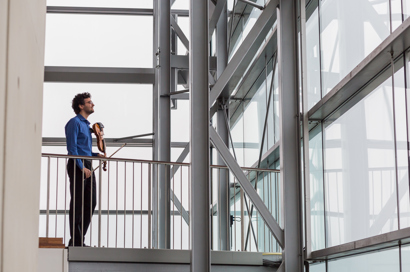 Joseph Puglia, Frank van der Weij
The introduction of electronics in classical music has created countless possibilities. The violin virtuoso Joseph Puglia, together with sound designer Frank van der Weij, presents a program where his violin is set on an even footing with electronics.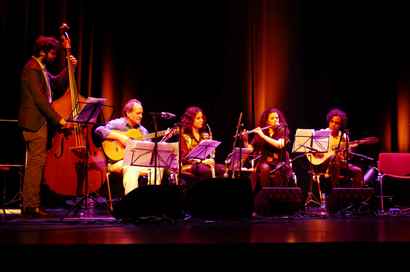 Mediterranean Sounds
In Mare Nostrum Inclusive, a cross fertilization takes place around the Mediterranean. The group Mediterranean Sounds seeks inspiration in Spanish, Italian, Portuguese, and Arabian styles and genres.