| | |
| --- | --- |
| Choreography | Amos Ben-Tal |
| Performance | OFFprojects, ICK Amsterdam |
| Extra's | 24 Feb Monday Movement Class | 26 Feb Wednesday Repertory Class |
| Duration | 60 min |
| Part of | We Are Public |
60 is a unique collaboration between choreographer Amos Ben-Tal, his collective OFFprojects and dance company ICK Amsterdam. Together they take the audience on a meditative journey that reflects on the social constructs and personal experience of time. Through movement, sound, light and words, Ben-Tal and the dancers skilfully deconstruct the concept of time. Sixty minutes where one shares moments of stillness, pressure, hope and desire, exploring the structure of time and its mysteries.
OFFprojects Extra
Choreographer and musician Amos Ben-Tal and his collective OFFprojects are well known for their multidisciplinary performances, installations, lectures and classes. Their out-of-the-box mentality resulted in unique projects. You can experience a number of these in connection with the performance 60.
Basing a whole performance around the concept of time is a pretty ballsy move. The last thing you want the audience to think about during said performance is how much time has passed, or what time it is. But, when it's done well, it can be magnificent.
Movement Exposed
Credits
Choreography, music and poetry
Amos Ben-Tal
Artistic advice
Yvan Dubreuil
Dance
Milena Twiehaus, Genevieve Osborne, Aurélie Cayla, Luca Cacitti, Wolf Govaerts (OFFprojects) and Arad Inbar, Edward Lloyd, Sophia Dinkel, Maxine van Lishout, Hannah Kriesmair (ICK)
Produced by
OFFprojects en ICK Amsterdam
Coproducers
Korzo, NDT, Julidans, CC Heidelberg
Supported by
Performing Arts Fund NL, Municipality of The Hagueg, Fonds21, Gravin van Bylandt Stichting
Uri Ivgi & Johan Greben, IVGI&GREBEN
Internationally renowned dance artists Ivgi&Greben bring an ode to idealism.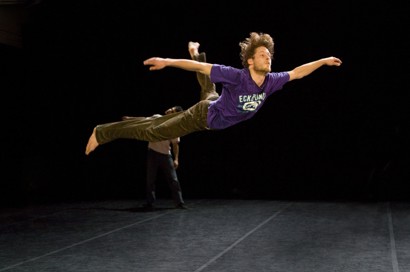 Festivals & series
Jong Korzo
Korzo in Den Haag
Arch8 / Erik Kaiel
How do you keep your head above water when the world becomes warmer? In this wild water ride of a performance, you see four players first deal with today's world. The problems are well known, but no one can solve them on their own. Come and watch, and think, and join in.
Ryan Djojokarso
20.00 - 21.00
Theater Kikker, Utrecht